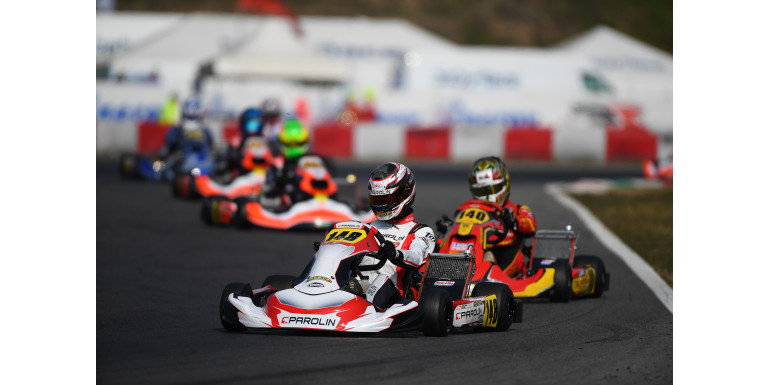 Modena Kart's 2023 has just begun with the new Parolin material to which the team is getting used to, improving their feeling session after session.
The stage in Franciacorta, which is the second of the WSK Super Master Series calendar, saw the team obviously involved in KZ2 and in the double Mini category (Gr.3 and Under 10).
In KZ2, Genis Civiso and Maksim Orlov immediately demonstrated great competitiveness in qualifying, starting right from the new signing Orlov who was able to finish with the sixth time overall, second for group B. Eighth time in the same group for Civico, also it grappling with a hard-fought qualification. During the three heats, both riders made good comebacks and placements. To underline the victory of the second heat by Orlov, P12 in the first heat and a retirement in the third due to a race contact. The Russian then completed the program by closing his pre-final in eleventh place. An almost similar path for Civico, good at recovering positions by exploiting his pace, scoring a ninth and a tenth place, "held back" only by a P17 due to a penalty for a Jump Start. Unlucky prefinal for the Spaniard, who was forced to retire when he was once again in full recovery. Sunday in Franciacorta did not do justice to what the riders demonstrated on the track with a recovery of almost ten positions by Orlov, who subsequently fell back to twentieth place due to the five-second penalty at the end of the race. Completely unlucky Sunday for Genis Civico, forced to abandon the race after the first laps. Complicated weekend but that doesn't erase what both of them demonstrated on the track, ready to repeat their pace in the next stage. In the first adaptation races of the season, even the young Modena Kart drivers had their say on the Franciacorta curves. A good weekend for the youngest, Giacomo Giusto in 60 Mini Under 10, protagonist of excellent heats always recovering including a fifth place and a fourth place in the prefinal with another five positions recovered. P26 due to a penalty in a chaotic final closing a weekend of great growth. More experience also gained for the other three Modena Kart drivers present in the competitive Mini Gr.3, namely Nojus Stasionis, Mark Pilipenko and Adam Bryta all grappling with the numerous heats and the usual battles in full Mini kart style. Useful apprenticeship to aim to improve in the next stages of the season. Modena Kart will be back on track in two weeks with the third round of the WSK Super Master Series at the Circuito Internazionale Napoli in Sarno.
Photo: Sportinphoto