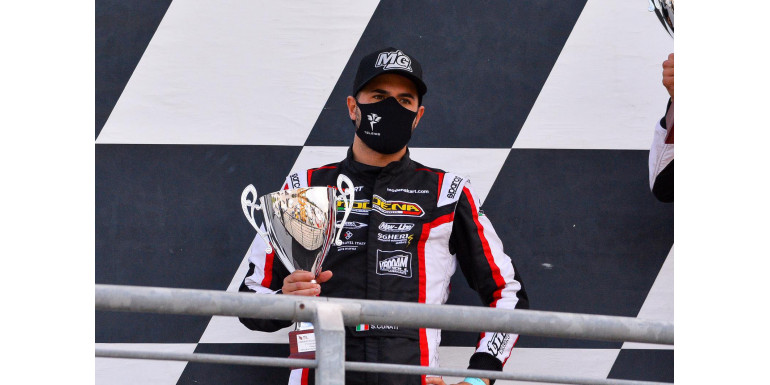 On the Adria circuit, all the protagonists of the ACI Championship fought in what was an important weekend, especially in terms of the general classification. Convincing performances for Simone Cunati and Luigi Di Lorenzo, engaged as always in KZ2.

The 2019 Italian Champion, Simone Cunati, is back on track after the brief "break" of the WSK, picking up where he left off. Cunati immediately scored the absolute pole position in 48.579, a useful time to take possession of the number one starting box for the double heat on Saturday. On the day of head-to-head clashes, Simone Cunati then concluded with two wins out of two heats available, completing a practically perfect day and also earning pole position for Race 1. On Sunday in Adria he didn't smile at all, Cunati nevertheless did given his best as always battling in the first final, narrowly closed in second place overall. The second race scheduled, with an inverted grid, saw Cunati first being penalized after the start and then recovering towards the relevant positions, except for having to be stopped by a technical problem. Despite the lack of victories, absolutely within reach, the Italian firmly maintains the leadership of the Championship with 117 total points before the last round.

Luigi Di Lorenzo redeems the last weekend in Lonato by concluding the weekend in Adria constantly fighting. In the timed practice session, sixth time for Di Lorenzo in 49.152 and sixth starting place for the heats. In the double clash on Saturday, the Italian driver had to deal with the fight in the middle of the group, finishing with a fifth and a sixth place, the result of a 5sec penalty for the front spoiler. Double finals completed with a fifth place comeback in race 1 and a sixth place in race 2 after the penalty for the incorrect position of the front fairing. In any case, Di Lorenzo is fighting for the top five of the general classification.


"We know we can fight in the last round of the Championship and we will do our best to defend the flag. As always, we thank our drivers, all our staff, Birel Art, Galiffa Engines, New Line, Imaf, Sparco, Arai and all our sponsors ".

Modena Kart makes an appointment with the Italian ACI Karting Championship with the showdown of Castelletto di Branduzzo scheduled for 23 and 25 October.