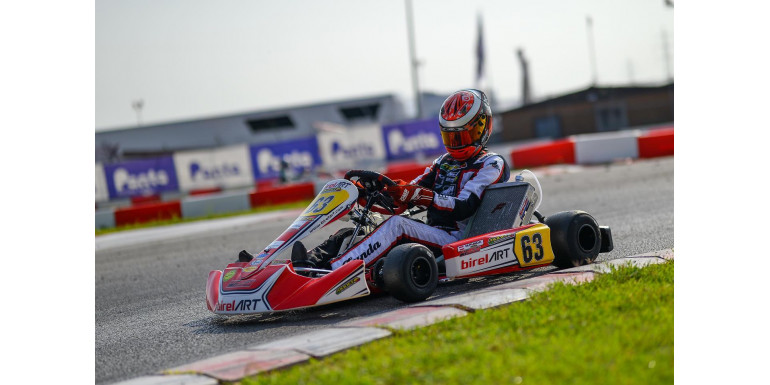 A challenging weekend for all present the one just ended at South Garda Karting. The Modena Kart men undertook the week of the race as their last test before fighting in the October weekend where Simone Cunati, Marcus Funda and Luigi Di Lorenzo will be protagonists of the last race for the FIA ​​Karting season.
As for the Austrian driver, Marcus Funda, the week in Lonato was certainly positive to find the right feeling with the circuit before the reckoning. Funda has shown that it is continuing on the right path in its growth process. In fact, the 17-year-old performed well in the only category between KZ and KZ2 drivers. In the double qualifications, Funda obtained two fourth group placements (D and E), proving constant. Path confirmed also in the heats program valid for round 2 where he concluded with a 12th and a tenth place, enriched by an eighth and a great second place in the penultimate heat of the day. On the strength of his excellent race pace, the Austrian then gained access to the first Final of the day where he would have battled with his opponents, except for having to retire early due to a technical problem.
As for round 3, less positive heats for Funda with two placings beyond the twentieth place, a nineteenth and an eighth place, again a sign of good competitiveness. In the last prefinal, the Modena Kart driver attempted the great comeback to also gain access to the second final, missed only by a whisker after recovering five positions.
Difficult week for Luigi Di Lorenzo, obviously ready to redeem himself in two weeks always on the same track after having made the most of the data collected. Two qualifications not in his standard subsequently compromised the two heats programs where the Italian encountered some problems. Certainly a positive note, the great recovery in the first pre-final where Di Lorenzo tried to qualify for the final by recovering seven positions from the start.
Modena Kart is therefore launched towards the next appointments which, first, will see the team face the third round of the Italian ACI Championship on the Adria circuit (25-27 October).
"It was a busy weekend but more than ever useful for the next races we will face. We thank our drivers, all our staff, Birel Art, Galiffa Engines, New Line, Imaf, Sparco, Arai and all our sponsors" .