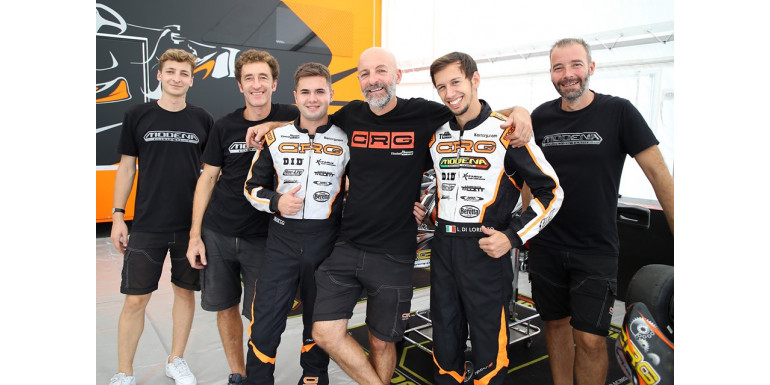 At the South Garda Karting of Lonato the FIA ​​Karting World Championship and the International Super Cup of KZ2 ended, where another good performance was achieved by Modena Kart with its Italian champion Simone Cunati, always among the greatest protagonists of the world championship event to reach the sixth place in the final of KZ2.
For Modena Kart and Cunati it was another good demonstration of competitiveness in the most prestigious FIA Karting race for the cadet category with the gears, which saw the record number of 122 participants. Cunati, at the wheel of the CRG chassis with TM Racing engine curated by Gianfranco Galiffa, in Lonato immediately put himself in evidence in the qualifying tests with the best time of his group, even if he was disadvantaged in the general classification for the lower grip of the asphalt that in the ranking of the tests forced him to start a little back. Despite this inconvenience, Cunati produced a series of good results in the heats up to the eighth place on the starting grid of the final, from which he managed to recover further positions to finish with the sixth place overall.
In the race with Modena Kart also Luigi Di Lorenzo, unlucky however in the qualifying tests for not having found the right lap useful to achieve a good time, after having always proved very fast in all free practice sessions. Always starting from the back, Di Lorenzo produced beautiful races in the heats with good recoveries, but not enough to be among the 34 finalists. Even Di Lorenzo, however, ended a good season, with a growing performance, often joining the leading players in the category.
This is the comment by Simone Cunati at the end of his final: "For us it was a positive weekend, with the team we always worked well. I did the pole position of the group, but the misfortune of being in the group when the track was slower for the beginning of the sunset has put us at a disadvantage in absolute times, and in the heats I had to always start a little back . However, I have always recovered, and even during the heats we worked well. In the final I could not do more for losing some positions on the first lap. I'm sorry because we were here to win. The balance of the year remains positive, we did an excellent Italian Championship and we played it until the last time in the European Championship. Here at the Super Cup we took sixth place out of 122 drivers. I'm really happy with how we worked with the Modena Kart team. "